(Click on the links to jump down to the correct section)
2. Create a roster under the Roster tab.
Basic (free) Student Roster:

Pro/ Portfolio (paid) Student Roster:
3. Assign the assignment to a roster
4. Students sign in!
For Basic students, simply share the 6-digit class code or the class code link and have them enter their name exactly as it appears on the roster.

Basic Students will need to use a class code each time they log in.

PLEASE NOTE

: Class codes are specific to each assignment/roster combination. Please be mindful to share the correct class code to the correct roster.

For Portfolio students, you can choose to have them sign in directly to an assignment (with the class code or class code link) OR you can have them sign in directly to their student dashboard and choose the correct assignment.

Once on your roster, Portfolio students will no longer need to use class codes to log in.
2) How to generate a class code / assign a roster:
On Web, go into an assignment and choose the toggle 'assign' at the top of the page. After assigning a roster, you will see the class code.
On iOS, make sure you are in the correct assignment. Click the drop down on the upper left hand corner of your screen that says "Assign Roster". Choose a roster. The 6 digit class code will appear to the right of the roster name.
Students can ALWAYS go BACK to an assignment even after they've exited Classkick! To go back, they must log in exactly the same way!
Please watch the video below for visual support on assigning to a roster/generating a class code:
On Classkick Basic, students can re-enter their assignments by entering the class code and their name EXACTLY as it appeared on their first log in.
For example, if a student enters "Andy S" into the name box, he must continue to enter in "Andy S" and no other variation such as the following: Andy S., Andy, Andrew, etc.
PLEASE NOTE: If students enter their name differently, a "new" assignment will then be created. The work the student previously did will be on the "old" assignment. Additionally, you will also have a "new" student on your roster.
If you want to prevent students from having multiple names on your roster, you can also check out this article on LOCKING THE ROSTER.
Basic Student Log in Instructions:
1. Type in the Class Code
2. Type in name and then click GO
On Classkick Pro, students can simply log into their Portfolio account and click in and out of assignments at their own pace and on their own timing.
Students will log in and see their student dashboard of assignments (see image below):

PLEASE NOTE: Our team highly recommends using Portfolio student accounts if you have a Pro account. If you already have a roster with Basic students and would like to switch to Portfolio accounts, please see this help center article for tips on getting started with Pro.
Portfolio Student Log in Instructions:
Have students SKIP typing in their name/class code and simply have them log in with Google, Clever, or an email/username.


1. Click LOG IN

2. Click "Continue with Google," "Continue with Clever," or type in username and password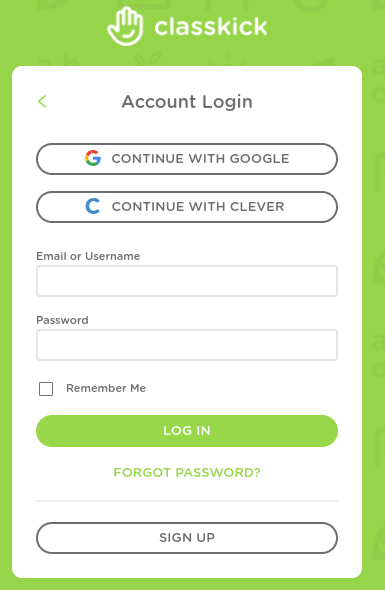 PLEASE NOTE: If you want students to log into the specific assignment and not the dashboard, have students do the following:
1. Type in the class code
2. Click on "Log In" without typing in their name
3. Log into their Portfolio account
Please watch the video below for visual instructions on how to get Pro students signed up.
Click here for a printable PDF on how to get students started!
See this article for log in instructions written for students.