Can you reuse and delete assignments on the Basic version?

Yes! You have a limit of 20 assignments at one time, but you are able to edit, recreate, or delete assignments.

How do I upload one of my current assignments into Classkick?

Save your current assignment as a PDF on your desktop. Then upload it into Classkick using the Green "+" button on the assignment dashboard - choose "upload from file"

Can you use PowerPoint or Google Slides with Classkick?

You can save your PPTs as PDFs and upload them directly into Classkick.

If using Classkick on iPad, you can also import an existing assignment from Google Slides!

How do I delete an assignment?

To delete an assignment, click on the trash can all the way to the right of your assignment name.

Can I copy and paste slides from one Classkick assignment to another?

Yes! When you are in EDIT ASSIGNMENT mode, click on the 3 vertical dots on the slide you want to copy and then click "Copy" or "Copy All". Go to the other assignment you would like to paste your slide(s) into, click the 3 vertical dots on another slide, and then click "Paste".

How do you copy/duplicate an assignment?


Under the Edit tab of the assignment, click on the 3 vertical dots in the right-hand corner.

Click on "Duplicate" and it will copy the entire assignment (see screenshot):

Can you copy and paste in Classkick?

You can copy and paste in Classkick by using the keyboard shortcuts for copy and paste:

Windows
Ctrl + X = cut

Ctrl + C = copy

Ctrl + V = paste

Mac
Command + X = cut

Command + C = copy

Command + V = paste

You are also able to copy and paste most of our features once you have uploaded them onto your canvas. For example, if you have uploaded one manipulative, you can copy and paste it as many times as you'd like!

To copy and paste text please be sure to highlight the text and then use the keyboard shortcut. If you click on the text box, you will not be able to copy/paste. You must highlight the text.

Can you share assignments with other teachers?

Yes! Watch the video below for help on how to do this!

Please make sure you have allowed Access to your colleagues under the "Edit" tab

In addition to simply sharing individual assignments with your colleagues, you can also increase collaboration by using your Shared Assignments Page.

Do you have an Assignment Library or assignment templates?

Yes! We have an

ASSIGNMENT LIBRARY

full of templates created by teachers themselves. We also have a

REMOTE LEARNING PAGE

!

When logged into your account on the assignment dashboard, click the green '+' button and select Browse Assignment Library. Find the assignment you wish to use and select the button in the upper right hand corner that says "copy assignment". This assignment will immediately be added to your dashboard.

Can I choose which pages of my PDF I want to use in Classkick?

You can choose pages and even snip parts of pages on a PDF - check out the video below for more support.

Can I add multiple PDFs to one assignment?

Yes! You can add multiple PDFs to Classkick.

Step 1. Click the green "+" button on your assignment dashboard and choose "Create from File"

Step 2. To add another PDF, tap into a blank slide in your assignment and click the camera button.

Step 3. Choose the PDF you want to upload.

How do students submit their work?
Everything in Classkick happens in real-time! Therefore, students do not need to "submit" their work; rather their work is saved automatically. As a teacher, you will see their work in real-time.
If you are looking for ways to be notified when students have completed something in Classkick, you might be interested in using our HAND RAISE FEATURE. Students can 'raise their hand' on a particular slide, like on the last slide of the assignment. As a teacher, you will receive a notification that a student has asked to "Please Check" Or "Please Help".
Student View: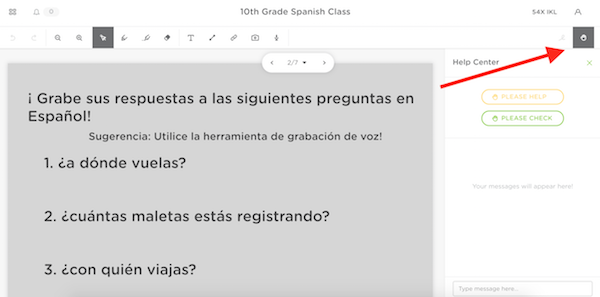 Teacher View: The teacher will receive a notification when students raise their hands (see image below). The teacher is able to click the notification and immediately be taken to the student's slide.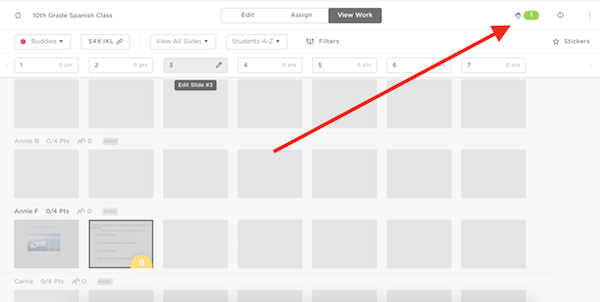 Other teachers have also advised students to use the EXPORT TO PDF

feature and then upload that to their school's learning management system (LMS).

You may also consider using our LOCK ASSIGNMENT FEATURE

if you'd like students to STOP making changes after a certain point.
12. What is the "Old Work" folder?
The Old Work folder is a folder on the student dashboard that houses all assignments students have worked on. Work gets in this folder in a variety of ways:
A teacher deletes a roster
A teacher deletes an assignment
A teacher un-assigns a roster
If you do NOT want students to see these assignments under their Old Work folder, you would have to first request that they be recovered by Team Classkick HERE. You can then HIDE the assignment and then DELETE. This will delete the assignment for good from BOTH the students' dashboards as well as on your dashboard.
13. Can I print in Classkick?
You can always print using the keyboard shortcuts!
Windows
CTRL + P
Mac

Command + P